The State of the Water: Linking Ocean Health to Human Health
January 8, 2015
09:00 am US Eastern Time
Speaker presentation slides:
Dr. Fleming: Ocean and Human Health: Brief Overview - Download the PDF
Dr. Stegeman: Anthropogenic chemicals and nanomaterials: Persistent concerns in Ocean and Human Health - Download the PDF
Dr. Fritsch:Neuromuscular systems as a convergent target of environmental stress in ocean and human health - Download the PDF

Additional resources of interest:
In the US, significant funding for research and training in oceans and human health has come from the National Science Foundation (NSF), the National Institute of Environmental Health Sciences (NIEHS) and the National Oceanographic and Atmospheric Administration (NOAA) (http://www.niehs.nih.gov/research/supported/dert/programs/oceans/) in HABs, microbial pollution, anthropogenic chemicals, climate change, and marine natural products; and there has been a recent call for proposals under the EU Horizon 2020 Programme to promote ocean literacy focusing on the broad area of oceans and human health.
International events on oceans and human health have included:
Other resources:
Bowen, R., Depledge, M., Carlarne, C., Fleming, L.E. (eds). (2014). Seas, Society and Human Wellbeing. Wiley, Publishers, UK.
Bowen, R.E., Halvarson, H., Depledge, M.H. (2006) The Oceans and Human Health. Marine Pollution Bulletin, 53, 631-639.
Depledge, M.H., Harvey, A., Brownlee, C., Frost, M., Moore, M.N., Fleming, L.E. (2013). Changing views of the interconnections between Oceans and Human Health in Europe. Microbiology Ecology, 65, 852-859.
European Marine Board (2014). Linking Oceans Human Health: A Strategic Research Priority for Europe. Position Paper 19. Ostend, Belgium.
EU Blue Growth Strategy (2012). Scenarios and Drivers for Sustainable Growth from the Oceans, Seas and Coasts. Luxembourg.
Fleming, L.E., McDonough, N., Austen, M., Mee, L., Moore, M., Depledge, M.H., White, M., Philippart, K., Bradbrook, P., Smalley, A (2014). Oceans and Human Health: A Rising Tide of Challenges and Opportunities for Europe. Marine Environment Research, 99,16-19.
Knap, A., Dewailly, E., Furgal, C., Galvin, J., Baden, D., Bowen, R.E., Depledge, M., Duguay, L., Fleming, L.E., Ford, T., Moser, F., Owen, R., Suk, W.A. and Unluata, U. (2002). Indicators of ocean health and human health: developing a research and monitoring framework. Environmental Health Perspectives, 110, 839-845.
White, M.P., Wheeler, B.W., Herbert, S., Alcock, I. & Depledge, M.H. (2014). Coastal proximity and physical activity. Is the coast an underappreciated public health resource? Preventive Medicine, 69, 135-140.
Wyles, K.J., Pahl, S., Thompson, R.C. (2014). Perceived risks and benefits of recreational visits to the marine environment: Integrating impacts on the environment and impacts on the visitor. Ocean Coastal Management, 88, 53-63.
Ninth in a series of calls organized by CHE and the Boston University Superfund Research Program (BU SRP).
The health of the world's oceans is impacted by a variety of factors, including runoff from toxins used in manufacturing and agricultural practices, climate change, and improperly disposed of pharmaceuticals. Warming ocean temperatures are resulting in ocean acidification, marine and freshwater species demise, and dangerous algae blooms. The exposure of marine and freshwater wildlife to toxins is causing mutations and epidemiological changes which may serve as an important lesson for the future of human health. What does the science about ocean health tell us about our own health? What are the most pressing environmental health concerns related to the oceans' health? What might environmental health scientists, researchers, and policy makers do to address these pressing issues?
On this call CHE and BU SRP explored the research and the questions related to the intersection of ocean health and human health. Dr. John Stegeman of Woods Hole Oceanographic Institute and the BU SRP and Dr. Erika Fritsch of the UC Davis SRP discussed their research. Dr. Lora Fleming of Exeter Medical School then provided a medical and European perspective.
Featured Speakers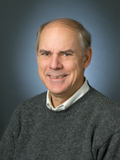 John Stegeman, PhD, Senior Scientist and Director at the Woods Hole Center for Oceans and Human Health and Project Leader at the Boston University Superfund Research Program. John Stegeman received a PhD in biochemistry from Northwestern University, and was awarded a Doctorate (honoris causa) from Gothenburg University in Sweden. He has been studying hydrocarbon and other pollutant chemical metabolism and effects, primarily in aquatic species for more than 30 years focusing on structure, function, regulation and evolution of the cytochrome P450 (CYP) genes and enzymes involved in metabolism of chemicals and hormones. Dr. Stegeman has authored or co-authored over 200 publications, including studies of molecular biomarkers of chemical exposure in fish, birds, whales and humans, and the mechanisms involved in chemical effects including carcinogenesis, cardiovascular defects and neurobehavioral disorders. He has served as journal editor and on several editorial boards, on NIH review groups, and on Advisory Boards of several NIH Centers. Dr. Stegeman chaired the Science Advisory Board of the National Toxicology Program, and served on and chaired committees for the National Research Council and the Institute of Medicine. He is a Lifetime National Associate of the National Academies. Dr. Stegeman was Chair of the Biology Department at Woods Hole Oceanographic Institution and is Director of the NSF/NIEHS Woods Hole Center for Oceans and Human Health.
Erika Fritsch, PhD, Postdoctoral fellow working with Dr. Isaac Pessah, Department of Molecular Biosciences at the University of California Davis. Dr. Fritsch received her PhD in Pharmacology and Toxicology from the University of California Davis in 2013, where she studied the impact of legacy and current use contaminants on the neuromuscular health of fish species. She is an on-going member of the University of California Davis' Superfund Research Program, and a current Ruth Kirschtein Fellow in Basic and Translational Cardiovascular Science. Her work has demonstrated that ryanodine-sensitive channels of the sarcoplasmic reticulum, namely the ryanodine receptor (RyR), is a common target of environmental contaminants in mammalian and fish species with implications on vast physiological and behavioral organismal systems. As a postdoctoral scholar, Dr. Fritsch's work continues to examine the impacts of contaminants on the RyR working at the interface of aquatic organism and human health. On-going research interests include the impact of RyR-active compounds on skeletal and cardiac muscle and endocrine and neuronal systems that may arise due to short exposure periods and potential long-term exposure, such as those seen across multiple generations.
Lora Fleming, Director of the European Centre and Chair of Oceans, Epidemiology and Human Health at the University of Exeter. Professor Fleming is a board certified occupational and environmental health physician and epidemiologist with over 25 years of experience and expertise in environment and occupational exposures and human health. As Director at the European Centre, Professor Fleming works in the areas of Oceans and Human Health and Healthy Workplaces. Working with various Centre colleagues and others, she has performed research in human health exposures and effects of harmful algal bloom toxins; effects to human health of microbial pollution, and; health disparities in the workplace. She has also created outreach and educational materials concerning the human health effects of marine and freshwater natural toxins and occupational health issues.